.............................................................
BIOGRAPHY
EVENT BASED PROJECTS - WAYWARD CANON
PUBLICATIONS & TEXTSNS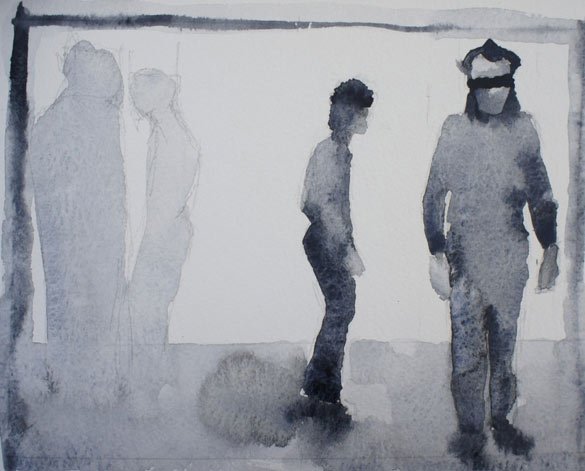 Welcome to the Association Area, Whitstable Biennale 2014 - essay on spectator as detective, exclusion as invitation, fetish as counter to capital. works/references:
Saphire & Steel Assignment 6 (1979-82), 90 min, ATV for ITV
'pornography/forest_pics',(2004-12) Eva Stenram
Association Area (1971), 62min, Vito Acconci
Raiders Jacket, Ecko Jeans in the Pool (2010) 2min 26sec, Wet Canuck.
Raumsehen und Raumhören, ('Seeing space, Hearing space", 1973/74), 6min 19sec. VALIE EXPORT
Carlton (2006), 10 min Simon Martin
Life in Film - Frieze 139, May 2011 - A consideration of the moving image, between gallery, auditorium, production and audience.
The Flipside of Darkness
Mark Aerial Waller

Centre for Contemporary Art Ujazdowski Castle, Warsaw, 2007
64 pages. B&W reproductions. ISBN: 9788361156369
15.5 x 16.5cm. English/Polish text. Softcover.

Essay by Mike Sperlinger (Afterthought: New Writing on Conceptual Art) and interview by Stuart Bailey (dexter sinister)
Prose poem by Douglas Park 'Dream Key Zodiak/Pandora's Ark'

This publication traverses both sides of Mark Aerial Waller's practice, a glimpse into his oeuvre of video works as well as the event based project The Wayward Canon, founded by Waller in 2002.

'The Flipside of Darkness' is a video work based on the ancient Greek tragedy 'Oresteia' by Aeschylus, shot entirely in Warsaw within Stalin's Palace of Cuture and Science and nearby neo-classical Lazienki park. The grandure of Soviet architecture is overlayed with Aeschylus epic narrative of the emergence of justice from barbarism.Mike Sperlinger's essay draws relationships between the survival of mythology, 'cult' culture and the contamination of the present within waller's video work. Stuart Bailey investigates the mechanisms of salon culture and the relationships between audience, space and event structure in his interview with Waller, a rare document of the emergence of The Wayward Canon.

£5.00
DOWNLOAD PDF
Mai Abu ElDahab (Ed.)
From Berkeley to Berkeley

Objectif Exhibitions, 2008-2010 Interviews: Mai Abu ElDahab by Will Holder, Guy Ben-Ner by Jan Verwoert, Mariana Castillo Deball by Giovanni Carmine, Sancho Silva by Luca Cerizza, Michael Smith by Larissa Harris, Yael Davids by Frédérique Bergholtz, Mark Aerial Waller by Mike Sperlinger, Anne Daems by Ronald Van de Sompel, Chris Evans by Francesco Manacorda, Antonio Ortega by David G. Torres, Sharon Hayes by Roger Cook, Christian Jankowski by Raimundas Malašauskas, Michael Stevenson by Esperanza Rosales; glossary by Dexter Sinister
The publication includes a series of interviews with artists who exhibited at Objectif Exhibitions, Antwerp, over a two-year period, along with a collection of secondary and parallel material produced in collaboration with each artist. Ranging from the humorous to the pseudo-scientific, the artists discuss the methods by which their research is transformed into practice. Both the artists and the interviewers constitute a community of active and concerned arts practitioners who, through art-making, writing, curation and teaching, deal with issues of representation, behavioral patterns and historical legacy.
Co-published with Objectif Exhibitions
Design by Will Holder
Inside cover design by Frances Stark
September 2011, English
10.5 x 14.9 cm, 370 pages, softcover with dustjacket
ISBN 978-1-934105-34-4
$24.95 | €18.00
MORE INFO/ ORDER HERE
Philip
by Mark Aerial Waller (Author), Heman Chong (Author), Cosmion Costinas (Author), Rosemary Heather (Author), Francis McKee (Author), David Reinfurt (Author), Steve Rushton (Author), Leif Magne-Tangen (Author),Mai Abu ElDahab (Ed.)
"The novel is named after the visionary science fiction author Philip K. Dick (the setting is Philipville, 'Final Days', 2019). It is filled with over-the-top sex and carnivalesque violence.At the core of the novel are the twin themes of rapture and revolution, themselves symptomatic of today's two major ideological axes: the rise of fundamentalist religion and the foreclosure of leftist politics in the wake of Communism. Part of the ambition of Philip is to write a history of the present, recounting the rapid world decline inaugurated by George W. Bush, a tale that is not without its amusing details (such as the Estonian ex-hippie Islam-convert who manages to unite the Arab world in a peaceful caliphate). The novel dwells on the purely negative moment of revolution, the orgy of violence become an end-in-itself apocalypse. " Aaron Schuster, Frieze 106, April 2007.
Price: £11.92
ISBN 9781872493213
Copyright The Authors and Mai Abu ElDahab (Standard Copyright Licence)
EditionFourthPublisherProject Press, Project Arts Centre
Published 16 June 2010
LanguageEnglish
Pages200
BindingPerfect-bound Paperback
Weight 0.21 kg
10.8 wide x 17.48 tall